Description
The Only Alkaline Coffee on the Market!
Bio Coffee is a revolutionary product that provides vitamins, minerals, nutrients, pre and probiotics and 6 grams of fiber in each cup!
3-5 servings of Green vegetables in every cup – No Caffeine
The key ingredient in Bio Coffee is Wheat Grass. Wheat Grass is hailed the King of Alkaline Foods and is one of nature's super foods.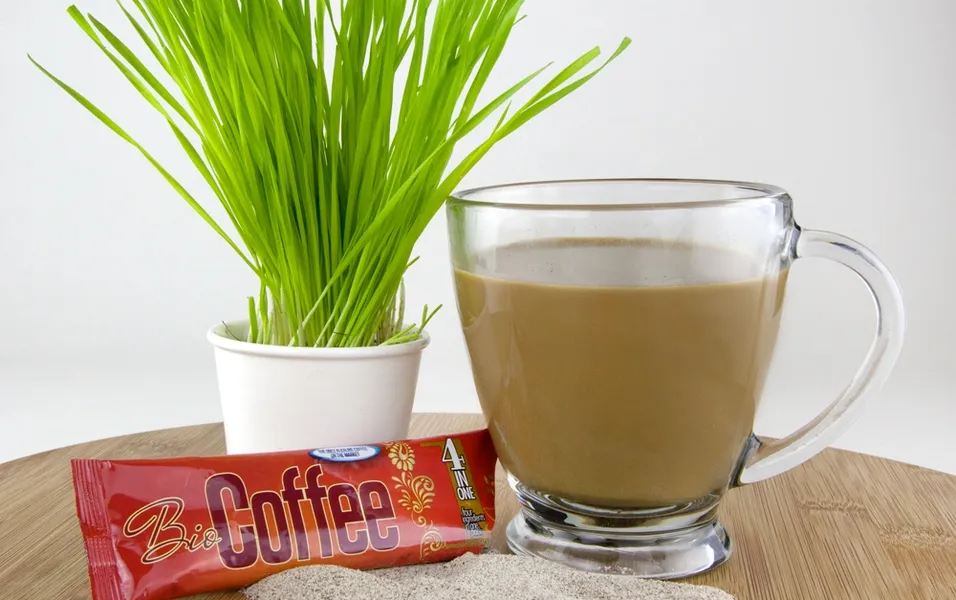 What makes Bio Coffee Alkaline?
 It's the key ingredient,  Wheatgrass. Green vegetables in general can effectively neutralize acids in the body because they are rich in bicarbonates and other alkaline minerals like calcium, magnesium, manganese and iron. Among all vegetables, Wheatgrass is hailed as the "King of Alkaline Foods."
Bio coffee first organic instant non dairy alkaline coffee!
In a study done in the Japan Analysis Center, the alkaline properties of Wheatgrass were compared to different alkaline foods such as lettuce, limes, tomatoes, bananas, celery and spinach. The acid-neutralizing properties of wheatgrass ranked the highest at 66.4 megahertz, as compared to spinach which came in second place at 39.6 megahertz. Further analysis done on Wheatgrass revealed that it has high levels of bicarbonates, alkaline minerals, trace minerals and oxygen-rich chlorophyll which all effectively neutralize acids in the body. These alkalizing properties of BioCoffee have a lot to do with the many health benefits of Wheatgrass.