Anavite (180 Tablets)
$49.95 USD
Increases Androgen Receptor Content in Muscle†
Enhances Post Exercise Muscle Recovery†
Increases Vasodilation and Nitric Oxide Availability†
Maximizes Aerobic and Anaerobic Sports Performance†
Contains High Potency Multivitamin & Mineral Formula†
The Ultimate Performance Enhancing Multivitamin Supplement
ANAVITE is far beyond a normal multivitamin. It's really 3 supplements in 1. An athlete's multivitamin/mineral formula with optimal doses of Beta-Alanine and Carnipure™ (L-Carnitine L-Tartrate) for vastly promoting increased endurance and nitric oxide levels while reducing recovery time, thus optimally supporting aerobic and anaerobic athletic performance.* Fully loaded with highly bioavailable vitamin cofactors such as methylcobalamin and powerful minerals such as methylselenocysteine you can expect that ANAVITE will exceed your expectations in a high potency multivitamin & mineral formulation.*
To raise the bar even further, Gaspari researchers included 2 FULL GRAMS of the powerful recovery aide Carnipure™ (L-Carnitine L-Tartrate) which has also been surmised to support increased vasodilation, nitric oxide levels, and increases androgen receptor density.* Lastly, while other companies under dose Beta-Alanine, ANAVITE includes over a FULL 3 GRAM daily dose of this powerful amino acid to encourage increased anaerobic and aerobic performance.* This means you can train harder longer!*

What Does Anavite Do:
1. Support Increased Androgen Receptor Content in Muscle*
2. Optimize Post Exercise Muscle Recovery*
3. Support Vasodilation and Nitric Oxide Availability*
4. Promote Aerobic and Anaerobic Sports Performance*
5. Contains High Potency Multivitamin & Mineral Formula*
Frequently Asked Questions

Q: What makes ANAVITE better than other multivitamins?
A: ANAVITE contains optimal doses of the vitamins and minerals athletes need, utilizing high-quality bioavailable ingredients.* Furthermore, it does not contain ineffective doses of numerous ingredients commonly known as "label fluff," but effective doses of beta-alanine and l-carnitine l-tartrate. These not only help support the body's anti-oxidant systems, but support performance and recovery.*
Q: How long does a bottle of ANAVITE last?
A: At the maximum doses ANAVITE contains a 30 day supply.
Q: Does ANAVITE cause a "prickling" (aka parathesia) sensation like other beta-alanine products?
A: Because of its advanced tableting technology, the amount of parathesia caused by ANAVITE is minimal if there is any at all. If you do feel any just split the doses into two pills taken with breakfast, lunch, and dinner.

Q: Why did Gaspari include beta-alanine and l-carnitine l-tartrate in a multivitamin formula?
A: ANAVITE is actually a 3 in 1 supplement. Most other multivitamin formulas really don't do much in terms of increasing performance and contain a bunch of underdosed ingredients that don't equate to much. Furthermore, beta-alanine is best used multiple times a day in research supported doses.* You'll notice it's used in many pre-workout products that don't contain the optimal dosing.* Since multivitamins and beta-alanine are best taken multiple times a day it made sense to stack them in the same product along with a powerful performance boosting anti-oxidant like l-carnitine l-tartrate.*
How to Use Anavite
ANAVITE can be taken once, twice, or three times a day depending on how many servings you want. Optimally, we recommend you take one serving (3 tablets) with breakfast and one serving with dinner. This ensures you are getting in optimal amounts of all your vitamins and minerals as well as beta-alanine and l-carnitine l-tartrate.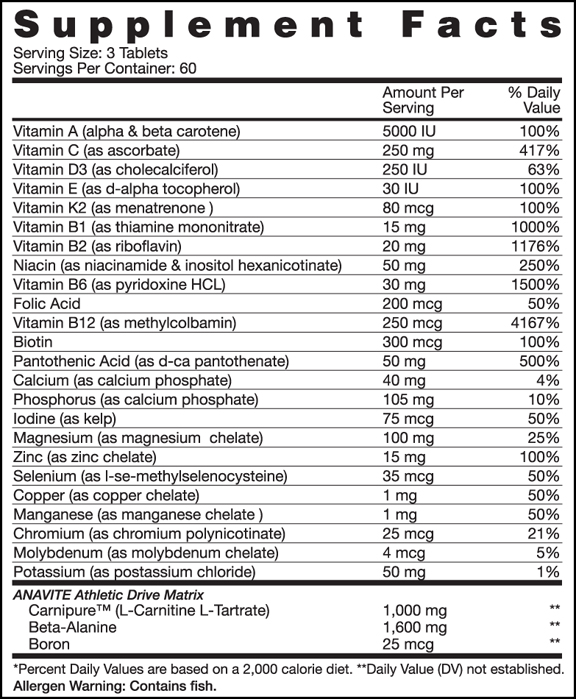 Directions For Anavite: Take (3) three tablets twice daily with food. Not formulated for use in children. Do not exceed suggested use. As with any supplement, if you are taking medication, consult your doctor before use.
Warnings: You should not take this product if you have any prior medical condition, including diabetes or high blood pressure. Consult your doctor before using this product. May cause a prickling/ tingling/ flushing in some users. This sensation generally decreases with continued usage. If this sensation becomes bothersome, taking ANAVITE with a meal may blunt this effect. Not for use by individuals under 18 years of age or by women that may be pregnant or nursing. Do not use if you are allergic or contraindicated to aspirin. If you are taking aspirin, blood thinning/anti-coagulant medication(s), or other medication(s), consult with your health care professional before using this product. Discontinue use two weeks prior to surgery or if upset stomach occurs.‡ KEEP OUT OF REACH OF CHILDREN. Store at room temperature. Keep bottle tightly closed.