Biotin Bursts-30/chewables)
$19.95
High Potency Biotin ~ Hair, Skin & Nail Health

Acai Berry ~ Super Antioxidant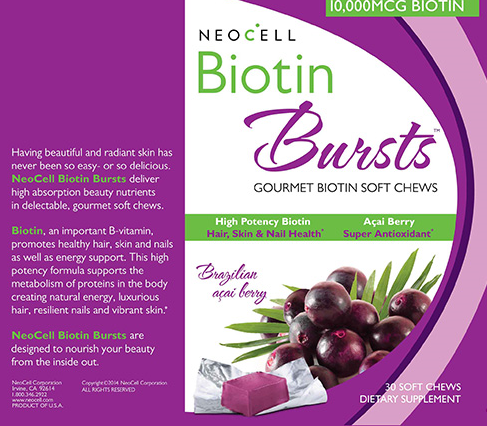 Feed Your Skin With Delectable Bursts of Nutrients!
Having beautiful and radiant skin has never been so easy- or so delicious. NeoCell Biotin Bursts deliver high potency beauty nutrients in a delectable, gourmet soft chew. Formulated based off of scientifically proven ingredients NeoCell Biotin Bursts offer a delicious alternative to your daily biotin regimen. Each chew is low in sugar and was especially formulated to be as readily absorbable as possible in delicious Brazilian Acai Berry flavor. Healthy hair and skin were never this easy, or sweet!
NeoCell Biotin Bursts, the best way to take your biotin. Period.
(You're Welcome!)
Biotin is an important B vitamin supporting hair and skin health
10,000 MCG of Biotin per chew
Scientifically formulated to support metabolism of proteins in the body promoting natural energy, luxurious hair and vibrant skin.