Clearogen Acne Treatment (Three Step) One Month Supply
$89.95
What it is:
A clinically proven three-piece acne regimen to clear existing acne and prevent future breakouts.
What it is formulated to do:
The Clearogen Foaming Cleanser gently cleanses dirt, oil, makeup, and bacteria that can provoke acne. Clearogen Clarifying Toner uses botanicals and a low percentage of salicylic acid to eliminate pore-clogging impurities while reducing redness and irritation. Botanical extracts support natural cell turnover for smoother skin. Clearogen Acne Lotion uses a low percentage of time released benzoyl peroxide to kill bacteria and clear blemishes while botanicals reduce DHT (dihydrotestosterone) in the oil gland and regulate oil production, the root cause of acne. Together, this trio will produce a clearer, smoother complexion.
This set contains:
– 1.7 oz Foaming Cleanser
– 2 oz Clarifying Toner
– 1 oz Benzoyl Peroxide Acne Lotion
Clearogen Acne Treatment Set goes beyond clogged pores and bacteria to stop acne at the source.
Frustrated with existing treatments that only addressed the symptoms of acne rather than the root cause, dermatologist Alex Khadavi developed a cutting-edge system that safely blocks the hormonal source of acne, dihydrotestosteron (DHT). Using FDA-approved medications to treat surface blemishes and natural ingredients to regulate DHT production, Clearogen targets existing acne and prevents future breakouts. The result: skin that's smooth, healthy, and acne-free.
What else you need to know:
The products in this set are dermatologist formulated, dermatologist recommended, and clinically proven. They are formulated using natural ingredients and powerful botanicals. They were not tested on animals and are cruelty-free.
Created by Dr. Alex Khadavi, world renowned Board-Certified dermatologist, Clearogen is a three-step anti-DHT acne-fighting system scientifically proven to help you achieve healthier, more vibrant, acne-free skin. Clearogen is designed to clear skin and eliminate symptoms before they even start. Clearogen uses FDA-approved medications to clear existing acne, similar to most acne products, but what's completely unique to Clearogen are the natural anti-DHT ingredients that normalize the skin's oil production and break the cycle of acne formation.
The Science Behind:
Acne begins at the oil gland when the hormone DHT (dihydrotestosterone) causes the overproduction of oil.
Clearogen works to:
1. Reduce DHT production and prevent excess oil production
2.Block androgen receptors to minimize oil gland stimulation
3. Open the pores and eliminate the acne-causing bacteria
4. Soothe irritation and inflammation to allow the skin to rejuvenate itself.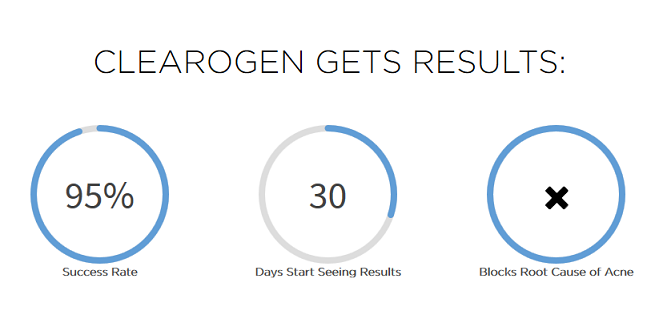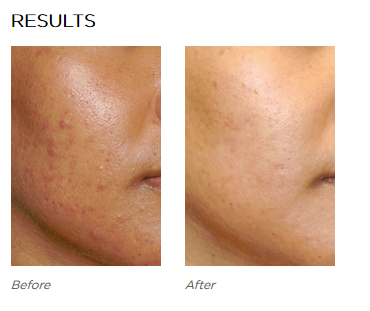 Clearogen Acne Research
Aside from FDA-approved acne medications Benzoyl Peroxide, Salicylic Acid and Sulfur, which are used to clear the existing acne, Clearogen contains natural anti-DHT ingredients that address the root cause of acne on the initial hormonal level. Dirt, makeup, and other factors only come into play if your glands are producing excessive DHT. Therefore, by stopping DHT, you eliminate the excessive oiliness that leads to acne in the first place. Clearogen is the first over-the- counter, fully FDA-approved product, for treating acne where it starts.
Natural Anti-DHT Ingredients
The natural anti-DHT ingredients in Clearogen include botanical compounds that have undergone independent scientific studies, proving their ability to inhibit 5-Alpha-Reductase (to reduce DHT production) and block the androgen receptors (to reduce stimulation of the oil glands by DHT). The main natural ingredients include Gamma Linolenic acid (GLA), Alpha Linolenic acid (ALA), Linoleic Acid, Oleic Acid and Saw Palmetto Extract. Clearogen is the only product on the market that contains these ingredients in one easy-to-use topical formula.
Suggested Usage:
Foaming Cleanser:
-Wet face with warm water, pump one to two times, and apply in circular motions.
-Rinse with warm water.
Clarifying Toner:
-Use once daily.
-Apply to entire face with a cotton swab and allow to dry.
Benzoyl Peroxide Acne Lotion:
-After cleansing and applying toner, dab the lotion evenly over the entire face.
Precautions:
-Avoid over cleansing.
-Avoid eye area.
-If irritation occurs, reduce use to once a day or once every other day.
-If irritation persists, discontinue use and consult a dermatologist.
-Recommended to apply sunscreen daily.
Cocamidopropyl Betaine: Gently cleanses the skin, removing sebum, makeup, and environmental pollution.
-Chamomile Extract: Lifts dead skin cells, tones, and allows the skin to heal.
-Benzoyl Peroxide 2.5%: Kills bacteria and clears surface blemishes.
-Fatty Acid Blend (Omegas ALA, GLA, and Linoleic Acid): Reduces DHT (dihydrotestosterone) in the oil gland and regulates oil production, the root cause of acne.
Foaming Cleanser:
-Salicylic acid 2%
Water, Alkyl (C10-16) Ether Sulfate Sodium Salt, Cocamidopropyl Betaine, Butylene Glycol, Hydrolyzed Wheat Protein, Alcohols (C12-15 LN.Saturated), Ethoxylate, Hydrolyzed Wheat Starch, Caprylyl Glycol, Phenoxyethanol, Aloe Barbadensis Leaf Extract, Rosmarinus Officinalis (Rosemary) Leaf Extract, Sodium Hydroxide, Ethylhexyl Glycerin, Hexylene Glycol, Sodium Chloride, Lavandula Angustifolia ( Lavender) Leaf Oil O.E. Glycerin.
Clarifying Toner:
-Salicylic Acid 1%
Water, SD Alcohol 40-B (Alcohol Denat.), Hamamelis Virginiana (Witch Hazel) Water, Glycerin, Polysorbate 20, Symphytum Officinale (Comfrey) Extract, Plantago Ovata (Indian Plantin) Seed Extract, Sodium PCA, Hydrolyzed Wheat Protein & Hydrolyzed Wheat Starch, Phenoxyethanol, Caprylyl Glycol, Ethylhexyl Glycerin, Rosmarinus Officinalis (Rosemary) Leaf Extract, Chamomilla Recutita (Chamomile) Flower Extract, Hexylene Glycol, Allantoin, Dipotassium Glycyrrhizate.
Benzoyl Peroxide Acne Lotion:
-Benzoyl Peroxide 2.5%
Water, Linolenic Acid (Alpha & Gamma), Linoleic Acid, Glycerin, Glycine Soja (Soybean) Sterols, Dodecyl Gallate, Octyl Ethylhexyl Gallate, Serenoa Serrulata Fruit Extract, Caprylic/Capric Triglyceride, Cetearyl Alcohol & Dicetyl Phosphate & Ceteth-10 Phosphate, Dimethicone, Aloe Barbadensis Leaf Extract, Glyceryl Stearate & PEG-100 Stearate, Sodium Hyaluronate, Cetyl Alcohol, Caprylyl Glycol, Phenoxyethanol, Extracts of Malva Sylvestris (Mallow), Mentha Piperita (Peppermint) Leaf Extract, Primula Veris Extract, Alchemilla Vulgaris Extract,Veronica Officinalis Extract, Melissa Officinalis Leaf Extract, Achillea Millefolium Extract, Imperata cylindrica Root Extract, Stearic Acid, Symphytum Officinale Extract, Camellia Oleifera (Green Tea) Leaf Extract, Tocopherol, Plantago Ovata Seed Extract, Hydrolyzed Wheat Protein, Tocopheryl Acetate, Melia Azadirachta Leaf Extract, Chamomilla Recutita Flower Extract, Xanthan Gum, Ethyhexyl Glycerin, Sulfur, Disodium EDTA, Magnesium Aluminum Silicate, Hexylene Glycol.