Ayur Skin Renewal Cream (30 ml) FREE Shipping!
$69.00
Benefits:
100% Natural
Provides essential skin-improving moisture
Improves skin's appearance without medical treatments
Long-lasting hydration
This cream was extensively researched to create just the right mix of skin nutrition extracts to give your skin the nourishment it needs to look its best.  It's proven to penetrate deep down to give you a glow from within that you can see and feel. Using Ayur Skin Renewal Cream with Wrinkless Cream, will help give you a healthy radiant glow and help eliminate wrinkles & fine lines! Click the banner below for more information!!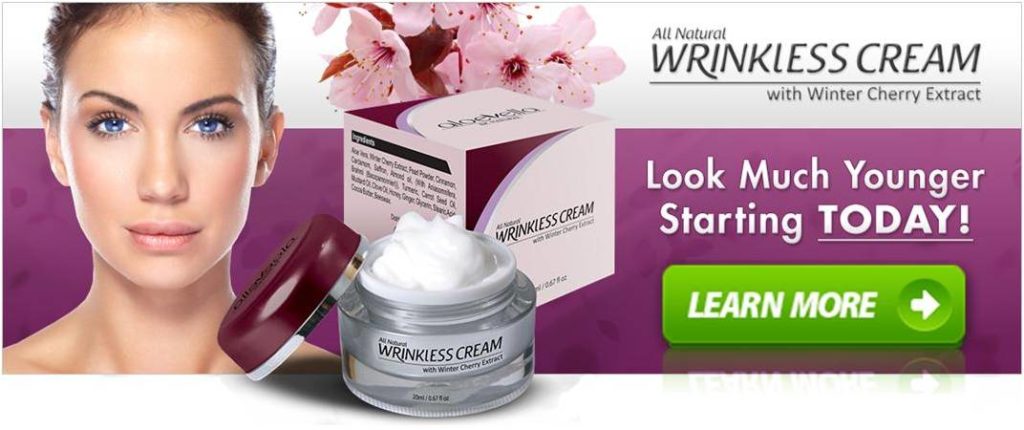 Suggested Use:
Apply a generous amount of cream to your face and neck area. Using circular motions, massage cream over your entire face and neck, especially around the eyes, across the brow, and any other problem areas until fully absorbed. Use regularly as a moisturizer for best results.
Ingredients:
Aloe Vera, Gold Water, Sweetwood, Red Sandalwood, Indian Madder, Saffron, Lotus, Wild Himalayan Cherry, Vetiver, Banyan Fig, Lodh Tree Bark, Goat's Milk, Blue Water Lily, Lycopene, Sappan Wood, Palmitoyl Tripeptide & Palmitoyl Tetrapeptide (M-3000)  

How does Ayur Skin Renewal Cream work to improve skin?
The secret to fine, glowing, young-looking skin lies in how you feed, nurture, and care for it. Ayur Skin Renewal Cream contains all the nutrients your skin needs to look radiant.
Does Ayur Skin Renewal Cream contain medicine or chemicals that firm my skin?
No! Our Ayur Cream only contains natural ingredients that will help nourish your skin. It's not healthy to apply chemicals to your skin, and sometimes medicine can't reproduce the benefits that come from nature.
When can I expect to see best results?
Results do not happen overnight. The natural ingredients need time to penetrate the thick layers of your skin. Use Ayur Cream regularly, and you'll start to see an improvement after one to two weeks.
How often should I use Ayur Skin Renewal Cream?
Use it daily for best results. Since it's a cream, it will spread easier and be absorbed better by your skin if you moisten your skin first. After a shower is the perfect time.
How much do I need to use each time I apply it?
Everyone's skin reacts differently to creams. Apply a liberal amount to your fingertips and massage into your skin. If your skin is damp or moist, you'll find you need to use less.