Description
FertilityBlend For Women and FertilityBlend For Men were developed based on nutritional components that benefit both men and women. All ingredients have been researched to determine their individual benefits.
Created by leading researchers, FertilityBlend is the first nutritional product to synergistically combine key natural ingredients into specifically designed men's and women's formulations.
FertilityBlend For Men
HOW IT WORKS
The amino acid, L-carnitine, has been shown to be critical to the formation of healthy sperm.
Vitamins C and E, green tea and selenium are all potent antioxidants that may help improve sperm counts and quality.
The antioxidant ferulic acid is found in Dong Quai, has also been shown to improve sperm quality.
Ingredients zinc and B vitamins (B6, B12 and folate) are critical nutrients in male reproductive systems for several benefits, including hormone metabolism, sperm formation and motility.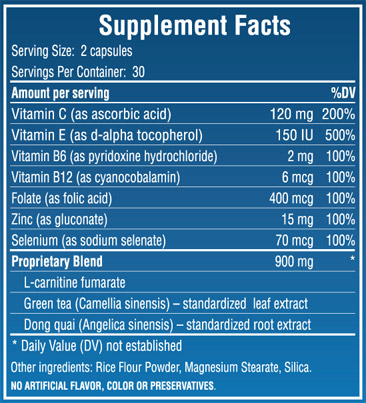 FertilityBlend For Women
HOW IT WORKS
The herb, Vitex (chasteberry), supports good hormone balance and normal ovulation. The amino acid, L-arginine, helps maintain healthy uterine lining.
Antioxidants green tea, vitamin E, and selenium, help enhance reproductive health by repairing oxidative damage due to aging and environmental toxins.
The ingredient folic acid assists in the reduction of neural tube defects in children, as part of a healthy diet.
The vitamins B6 and B12, and the minerals iron,zinc and magnesium also promote fertility health.