Product Description
In today's busy world it's not easy to eat properly or get the regular exercise we need to keep our bodies in optimum health. Much of our North American diet includes processed foods that are convenient but could have a negative impact on our health. Arthri-D3 ® is a revolutionary formula that combines one of the highest grades of glucosamine with key plant extracts.
This is the type of whole food nutrition you can take daily to really enhance your diet and your life.* A Better Quality Life = A Superior Supplement Arthri-D3 ® is produced in the United States of America in a superior manufacturing facility that adheres to the highest quality standards. In addition to the best manufacturing process, we also seek out the highest quality ingredients to offer you the best product 100% of the time. Superior ingredients and manufacturing yield a superior supplement and Arthri-D3 ® takes front stage in offering you the type of nutrition to keep you healthy and active.*
• Vitamin D3: Arthri-D3 ® has 1000 IU of the purest and most effective vitamin D on the market today; vitamin D3. Many studies have shown that vitamin D3 may be one of the most beneficial nutrients for our overall good health.*
• N-Acetyl-Glucosamine: N-Acetyl-Glucosamine (NAG) in Arthri-D3 ®. NAG is an expensive form of glucosamine that isn't readily available on a supermarket shelf. The other more common, cheaper forms of glucosamine are derived synthetically. Arthri-D3 ® uses the only the higher quality NAG to ensure you receive the most benefit from the supplement.*
• Turmeric: This spice has been used for thousands of years in Indo-Asian cooking and alternative medicine. As it becomes more popular in North America, studies are revealing there are many benefits that may enhance your health.* Turmeric may now be considered a super antioxidant.*
• Boswellia: Also known as frankincense, boswellia is an herb East Indians have used for hundreds of years to enhance health.*
• Ashwagandha?s side benefits are numerous. It helps promote energy, is a strong antioxidant, and aids in the body?s utilization of other herbs.*
• Yucca: The Native Americans of the southwest have used this root for hundreds of years, and it has been sold in supplements across North America for more than 50 years.*
Allergen Warning: product contains shellfish
Ingredients: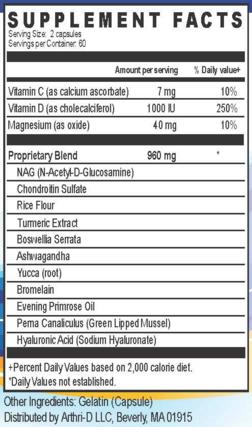 Suggested Use:
Take 2 capsules twice a day.